Cy Bao Steel
Inleiding
Baosteel (Chinees: 上海宝钢集团公司, Shànghǎi Bǎogāng Jítuán Gōngsī) is het grootste Chinese Staalbedrijf. In 2006 was het tevens de vijfde grootste staalproducent ter wereld met een productie van 22,5 miljoen ton. Het staatsbedrijf dat algemeen bekend staat als Baosteel is gevestigd in de stad Shanghai, telt meer dan 90.000 werknemers en was in 2007 volgens de Fortune Global 500 het 307de grootste bedrijf ter wereld.
Korte geschiedenis
De voorloper van de Shanghai Baosteel Group was Baoshan Iron and Steel. Na het mislukken van de Grote Sprong Voorwaarts begon de Chinese overheid in de jaren 1970 economische hervormingen door te voeren. In Sjanghai werd met Japanse ondersteuning een grote moderne geïntegreerde staalfabriek gebouwd.
Het bedrijf profiteerde van de sterk groeiende Chinese economie dat voor een sterke vraag naar staal zorgde. Anderzijds zorgde liberalisering voor meer concurrentie, zowel vanuit het binnen- als het buitenland. Daarom begon Baosteel ook uit te voeren wat vooral in Zuid-Korea aansloeg. Naar Europese normen lijkt dit een zeer jong bedrijf, maar door de late industriële bloei in China wordt het hier beschouwd als een ouder bedrijf.
Op 17 november 1998 nam Baosteel de Shanghai Metallurgical Holding Group en de Shanghai Meishan Group over. Samen vormden ze de Shanghai Baosteel Group. De nieuwe groep was de grootste staalproducent van China.
In 2001 ging Baosteel een alliantie aan met de Shougang groep en de Wuhan Iron & Steel groep. Ook ging men een samenwerking aan met het Duitse ThyssenKrupp. Baosteel heeft ook plannen om het Britse mijnbouwbedrijf Rio Tinto Group over te nemen voor €135 miljard. Het bedrijf heeft tevens een overeenkomst met mijnbouwbedrijf BHP Billiton om gedurende tien jaar 94 miljoen ton ijzererts geleverd te krijgen aan een jaarlijks af te spreken prijs.
Vergelijking
De volgende tabel is opgesteld in 2006:
| | | | |
| --- | --- | --- | --- |
| Rang | Productie ( x miljoen) | Bedrijf | Land |
| - | 1239,5 | - | Wereld |
| 1 | 117,2 | ArcelorMittal | Luxemburg |
| 2 | 32,7 | Nippon Steel | Japan |
| 3 | 32,0 | JFE | Japan |
| 4 | 30,1 | POSCO | Zuid-Korea |
| 5 | 22,5 | Baosteel | China |
| 6 | 21,2 | U.S. Steel | Verenigde Staten |
| 7 | 20,3 | Nucor | Verenigde Staten |
| 8 | 19,1 | Tangsteel | China |
| 9 | 18,3 | Corus | Verenigd Koninkrijk |
| 10 | 18,2 | Riva Group | Italië |
Focus van het bedrijf
Hieronder citeren we een stuk van hun eigen website.
The main steel business of Baosteel focuses on the production of hi-tech and high value-added premium steel, with an annual production capacity around 30 million tons. Baosteel's products sell well at home and abroad. Its steel industry covers three major categories: carbon steel, stainless steel and specially-alloyed steel, which are widely applied in the sectors of automobile, home appliance, petrochemical, machinery manufacture, energy & transportation, building & decoration, metal products, aviation and aerospace, nuclear power and electronic instruments, etc. While maintaining its dominance in domestic flat product market, Baosteel's products are also exported to over 40 countries and regions including Japan, South Korea, Europe and America.
Baosteel underlines environmental protection, implements clean production, develops circular economy and pursues sustainable development. It is the first enterprise to pass ISO-14001 environmental certification in Chinese metallurgical sector and also the first enterprise to get the title of "National environment-friendly enterprise" in Chinese metallurgical sector and Shanghai Municipality.
Toepassingsgebieden:
Het staal van Baosteel wordt in verschillende toepassingen gebruikt:
Toekomst van de Chinese staalmarkt
Zoals iedereen weet, is China economisch gezien één van de belangrijkste landen ter wereld, met nog steeds enorme groeivooruitzichten. De grootste concurrent van Baosteel, ArcelorMittal, lonkt al lang naar de snel groeiende Chinese markt. Het staalbedrijf bezit al een belang van 29 pct in Hunan Valin Steel Tube and Wire Company en van 12 procent in een joint venture met Baosteel-Nippon Steel.
Maar China wilt in de toekomst graag ook wereldspelers hebben zoals ArcelorMittal.
China, the world's largest steelmaker, plans to create one or two producers the size of global leader ArcelorMittal to win better prices from customers and material suppliers, according to a person familiar with the plan. The Ministry of Industry and Information Technology will push for mergers and acquisitions among the nation's more than 800 steel mills.
The Chinese government in August said the fragmented steel industry has led to overcapacity, depressing metal prices and reducing the ability of Baosteel Group Corp. and others to obtain cheaper materials. The nation accounted for half of global imports of iron ore in 2008, and failed this year to win a price cut agreement from BHP Billiton Ltd. and Rio Tinto Group.
"Bigger mills will emerge as Baosteel and others lead domestic acquisitions," said Zhou Xizeng, chief analyst with Citic Securities Co. "The advantages of such a policy are obvious — bigger mills will be better in technology development, have larger sales channels and lower costs."
Li Xinchuang, executive director of China Metallurgical Industrial Planning and Research Institute, a state-run government adviser, confirmed a steel policy plan is under discussion.
China should have one or two producers with capacity of 100 million metric tons each by 2015 under the proposed policy. The 10-biggest mills should account for 75 percent of China's output by 2020, up from an earlier target of 70 percent, said the person, who added steelmakers are reviewing the plan.
ArcelorMittal produced 101.6 million tons of steel last year. Baosteel, China's biggest steelmaker, made 35.44 million tons, followed by Hebei Iron & Steel Group with 33.3 million tons. The nation's 2009 output was 500.5 million tons.
The government will allocate iron ore, coal and other resources to companies involved in the consolidation under the policy. It will also encourage and support steelmakers to invest in overseas iron ore and coal mines, and build or acquire steel plants in other countries.
Under the new policy, the Chinese government also wants steelmakers to reduce reliance on imports of iron ore by buying more scrap steel as alternative raw materials, the person said.
De drie grootste ijzerertsproducenten, goed voor 80% van de wereldmarkt, zijn Vale, Rio Tinto en BHP Billiton. De staalproducerende bedrijven moeten elk jaar de prijzen voor ijzererts heronderhandelen. De ijzerertsproducenten zijn nu echter vragende partij om deze onderhandelingen op kwartaalbasis te doen, omdat de prijzen de laatste jaren sterk fluctueren. De ijzerertsverwerkende bedrijven verzetten zich hiertegen.
Men ziet hierdoor dat bedrijven zoals ArcelorMittal en Baosteel zich inkopen in mijnen. Deze verticale integratie moet ervoor zorgen dat fluctuaties in het aanbod van ijzererts (en dus ook in de prijs) geneutraliseerd worden.
Extra informatie
Wereldtentoonstelling
Baosteel is een officiële partner van de wereldtentoonstelling in Shanghai
Foto's
Overzicht:
Productieproces: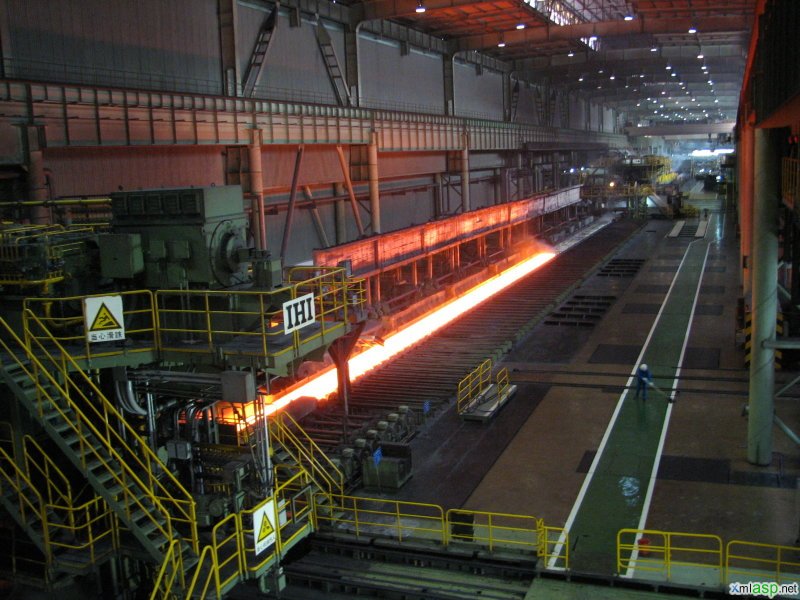 Videomateriaal
Op Youtube vinden we de volgende filmpjes die in de fabriek gemaakt zijn.
Het warmwalsen van een balk:

Oprollen van metalen plaat op een rol:

Recent nieuws
We zullen enkele links plaatsen naar recent nieuws die geïnteresseerden nog eens kunnen lezen.
Baosteel keeps steel prices unchanged for april
Baosteel developes HFW pipe with wall thickness over 20 mm
Baosteel to supply Australia's largest diameter gas pipe: QGC
page revision: 2, last edited:
24 Mar 2010 14:05